Upload Images: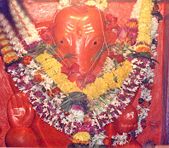 Mahad is a city and a municipal council in Raigarh district in the Indian state of Maharashtra. It is situated about 175km to the south of Mumbai (erstwhile Bombay). It has become the center of attraction because of its beautiful surroundings and pleasant climate. Mahad has a personality of its own due to its mythological, historical, social and cultural importance. The city, vibrant and active on the industrial, political, social and cultural fronts, has influenced the lives of some great personalities. It is famous for the Satyagraha of Dr. Babasaheb Ambedkar for the Dalits. It is a holy place for Buddhist clan. Apart from this, it had a glorious history during the rule of the great Maratha King Shivaji. It was part of Birwadi Subha ( Tehsil) and was ruled by Birwadi Subhedar's Kadams (Mahamunkars). Apart from this, Mahad was the central market for people of Poladpur, Raigad village and the cool Hill Station Mahableshwar. It has a very huge market in the part. The ancient Pandav Lene [The sculptured houses built in one night by the Pandavas.]
Surrounded by the Sahyadri mountain range, with Savitri and Gandhari rivers flowing through and Shivthar Ghat falls in the vicinity, it is an ideal getaway. Being one of the most developed area in the Konkan region, Mahad is a perfect combination of modern industrial advancements and ancient and valuable Indian culture.
Recently, Mahad Industrial Estate has found itself among the 'Dirty 30' published by the Blacksmith Institute1 for most polluted places on earth. This is after a survey conducted by the Supreme Court Monitoring Committee found that approximately 1,800 tons of hazardous sludge had accumulated at the Mahad Industrial Estate CETP.
Mahad has some wonderful places of interest as follows:
* Chavadar Tale (Tasty Water Lake)
* Raigad Fort (Samadhi (Tomb) of the Great Maratha warrior Shivaji who brought the Hindu revolution in Islamic India)
* Buddha Civilian Caves
* Hot water springs
* Old Shiva Temple
* Shivathar Ghal (Caves where the Great Maharashtrian Saint Ramdas had written the great holy book Dasbodh)
* Great Water Falls and green natural beauty.
* Revolution Land (Kranti Bhumi of Dr. Babasaheb Ambedakr)
* Land of Freedom Fighters and revolutionary freedom moment of India.
* Old River Port from where small commercial and traveler launches (boats) travel to the Bay of the Arabian Sea via the river way.
Demographics
As of 2001 India census, Mahad had a population of 24,275. Males constitute 53% of the population and females 47%. Mahad has an average literacy rate of 79%, higher than the national average of 59.5%: male literacy is 82%, and female literacy is 76%. In Mahad, 12% of the population is under 6 years of age.
How to get there:
Off the Mumbai-Pune highway, break away at Lonavela from where you drive down towards Khopoli and then Mahad. The Konkan railway also passes the Mahad station.