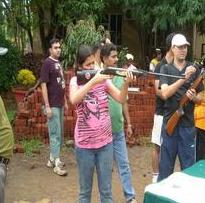 Adventure activities, sports & Outdoor games at Kamath Residency Resort includes: Rifle Shooting, Archery,White Water Rafting, Rappelling, Rock climbing, Team building Activities, Flying fox, Water fall Rappelling, River Kayaking, River Crossing, Surfing, Snorkeling, Zorbing, Angling, White Water Kayaking, Speed boat riding, Mountain biking ( 7 km.mountain & river crossing), Clip Jumping, Night Camping, Tribal Dance, Local D.J.
Kamath Residency Resort near Pune, is a piece of paradise on earth. Just a 2-hour drive from Mumbai / Pune on the Mumbai-Goa highway - 55 Kms From Panvel, it is natural, verdant and wooded throughout the year.
Its picturesque cottages, set amidst landscaped meandering canopied paths provide a respite from the rat race of the city and a stay in the lap of luxury.
Add to that varied and delicious food, impeccable and prompt service at value-for-money pricing.
Once you have arrived, you will be reluctant to leave!!!
If you are looking for fultoo dhamaal…try Kamath Residency Nagothane near Mumbai Pune for Adventure Activities | Training Programs | Weddings | Picnics and more... Contact 09869279937 / 09322279937 to pre-book today!
Source: http://www.kamathresidency.com/one-day-picnic-near-mumbai.htm